2016 London Marathon Coach almost full
Tom Millard storms home to win the Lydd 20 mile race on Sunday 13th March
A total of 20 Harriers took part in the Lydd 20 mile Road Race on Sunday 13th March , a target race for those doing Spring Marathons. Tom Millard  had an outstanding run storming home to win the race in a PB time of 1 hr 53 min (by 8 mins) and setting a course record and a new Harriers club record in the process. He was followed home by Tom Purnell in 5th place with a host of Harriers  having outstanding debut runs over the race distance or recording PB`s. Full details can be found in the club website results section.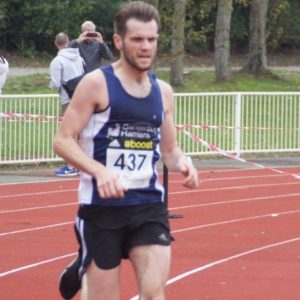 Get Ready For The Relays
This year`s East Kent Inter Club Relays kicks off on Tuesday May 17th at Folkestone. Full dates and times are as follows:
Tuesday May 17th at Folkestone starting 19:15
Tuesday May 31st at Minnis Bay starting 19:30
Tuesday June 7th at Ashford  starting 19:30
Tuesday June 21st at Samphire Hoe, Dover starting 19:30
Tuesday July 5th at Canterbury starting 19:30
PLEASE NOTE THAT THERE WILL BE NO CLUB TRAINING SESSION ON THESE EVENINGS
 The relays are for all standards and ages and the entry fees are paid for by the club. All runners are guaranteed a run and with chip timing  accurate results are published usually within 48 hours. Further details  inc location/parking etc  will be sent out nearer the individual dates. For those who are nervous about dropping the baton do not be fooled by the accompanying picture – the handover is by tag touch.